Pvc Zipper Pouch has really helped cut down on clutter and make it so easy to keep track of all of the pieces. The zippers are also easy for toddler's fingers to zipping. It contains one central compartment possessing an interior zipper pouch all secured by a full top width textile coil zipper closure. In addition, there are two open. This bag is trimmed with PVC and is carried by double PVC handle straps.
Pvc Zipper Pouch Features
Clear visibility of PVC pouches attracts consumer attention on-shelf with fitments for an easy open and reclose package that keeps your product fresh and safe. Along with this, PVC pouch reduces environmental footprint with less material consumption as compared to the weight of the product and optimizing the product to packaging ratio.
Pvc Zipper Pouch Application
The global PVC pouches market is primarily driven by apparel packaging and cosmetics & personal care industry. Automotive packaging industries also use PVC pouches for the packaging of equipment and parts. Packaging products offered in the global market for PVC pouch has applications apart from medical, automotive PVC pouch has applications into end-use including pharmaceutical, medical devices, electrical & electronics, etc. A transparent cylinder zipper bag.Packing pencils, rulers, an eraser for school children, super practical. A PVC pouch is very popular for girls to pack cosmetics.
What can be used as a PVC zipper bag?
Clear Pvc Zipper Pouch
Size:24*11*6cm,also can accept custom size
Pencil bag
Perfect to storage pen, rulers, eraser.
Cosmetic bag
Girls favorite, packing makeup, perfume, brush.
Product parameter of Pvc Zipper Pouch: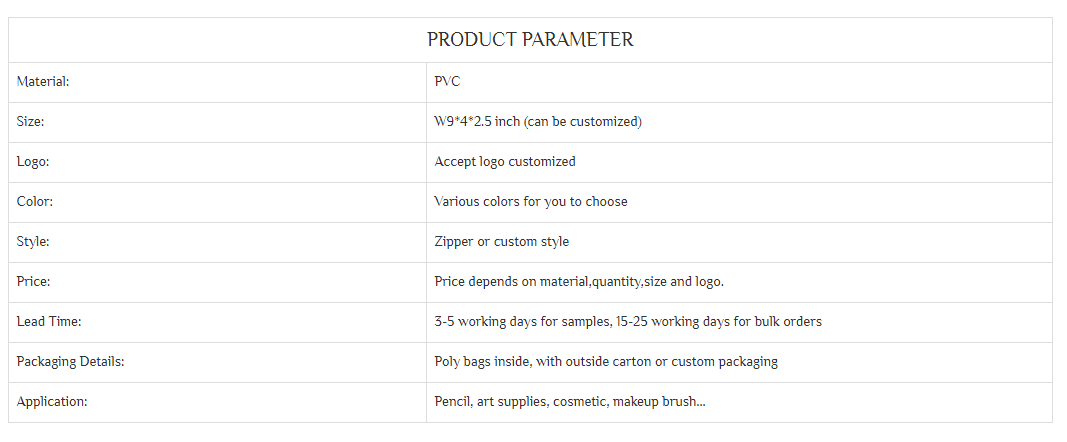 Product Image Pvc Zipper Pouch:
Universe International Packing Co., Ltd was established in 2010. Our PVC zipper pouch manufacturer located in Shenzhen city of China with more than 1200 square meters of area and 150 employees with professional workshops for production lines, printing, material, sewing processing, and QC. We are mainly engaged in manufacturing clear zipper pencil pouch and packaging boxes etc.